Hebei Baoshi Special Flexible Rubber Chemical Industry Co., LTD. is a high technology enterprise,which mainly manufactures and sells High Pressure Rubber Hose series such as high pressure steel wire braided Rubber Hose,high pressure Steel Wire Spiral Rubber Hose,steel wire spiraled Drilling Rubber Hose,and other rubber products. Our products are extensively used to mine, metallurgy, petroleum, construction machinery, chemical industry, traffic, shipbuilding, textile industry etc.
Hydraulic Power Expansion Packer
1). Product Structure: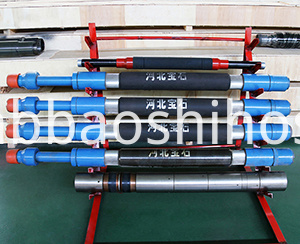 Figure.1 Hydraulic Power Expanding Packer Finished Products

1. Collar 2. Base Pipe 3. Rubber 4. Valve Joint 5. Pressure Limiting Valve 6. Check Valve 7. Opening Valve 8. Break Rod 9. Sub
Figure 2. Structure Chart Of Hydraulic Power Expanding Packer
Hydraulic power expansion external casing packer is mainly composed of the expansion sleeve, base pipe (casing), valve joints, collar, sub and other components which can be directly connected with the casing string.
There are are two structures of valve joint, one is radial valve system, and the other is axial valve system, radial valve system is composed of a set of three valves (open valve, single-flow valve, pressure limiting valve) radial arrangement of the axial valve system is composed of a Set of axial double valve (open valve, pressure limiting valve) composition.
Axial valves and valve joint have two radial valve system structure, radial valve system is composed of a set of three valves (open valve, single valve, pressure limiting valve) which is radial arrangement, and axial valve system is a set of two valves (open valve, pressure limiting valve) which is axial arrangement.
2). The type implication of Hydraulic Power Expanding Packer
3). Technical parameters
Hydraulic expansion packer product specifications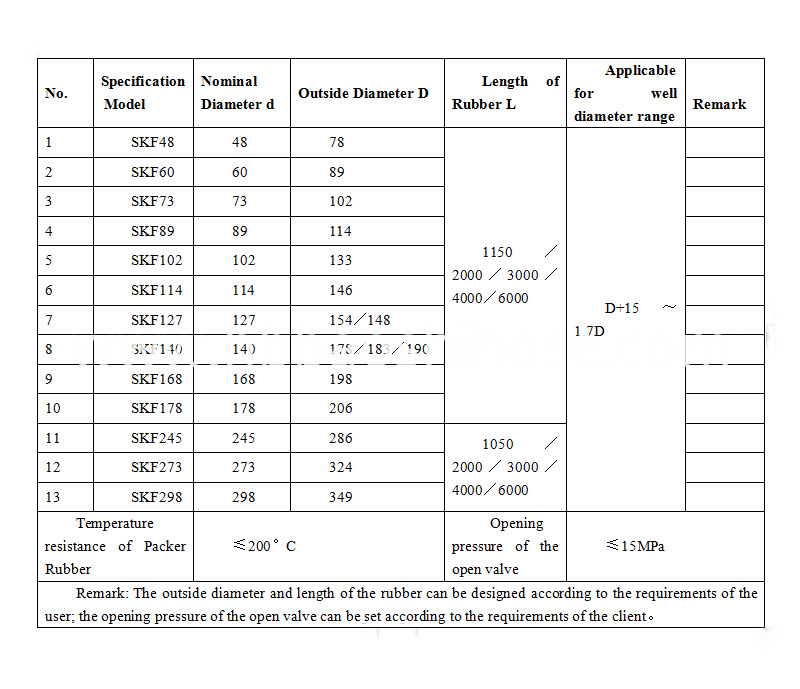 4). Main Application
SKF series hydraulic expanding packer is made of special expansion rubber as sealing element, with a combination valve system control of the permanent type external packer, mainly used for complex oil and gas, well completion cementing project, in order to achieve a variety of purposes down-hole sealing and blocking, to improve and enhance the oil, gas and water well completion cementing quality and has a significant effort. The tool is easy to operate, wide adaptability, safe and reliable. It is an important completion tool.
5). Main Advantage

a. Simple construction operation, no need to change the construction technology;
b. The Packer Rubber can automatically change according to diameter and the pressure difference of the hole;
c. Wide application range and can be used in various complex oil and gas Wells;
d. The valve system can safely and reliably protect and accurately control the tool down and seal.

6).Process design
a. Select the correct down and seal the packer position according to the application, and it`s best to down and seal the packer close to place where hole diameter is regular, the formation is denser and the well deviation is small;
b. Calculate the differential pressure value of downhole annular that packer need to bear, and determine whether the packer meets the need according to the maximum value recommended by the curve between well diameter and differential pressure;
c. Analyze and calculate concretely, determine the shearing pressure of opening locking valve - Pxiao:
Pbiao=Pxiao+ΔPs+Pfu
Pbiao-Maximum surface pressure when construction Mpa
Pxiao-Shear pressure of opening the valve, generally based on thethe maximum cycle pressure when construction.
ΔPs-Static pressure difference in the position of down and seal the packer Mpa
Pfu- the additional pressure which take errors of all aspects into consideration,,normally 3~4Mpa
7). Well diameter of packer down and seal with the pressure difference curve.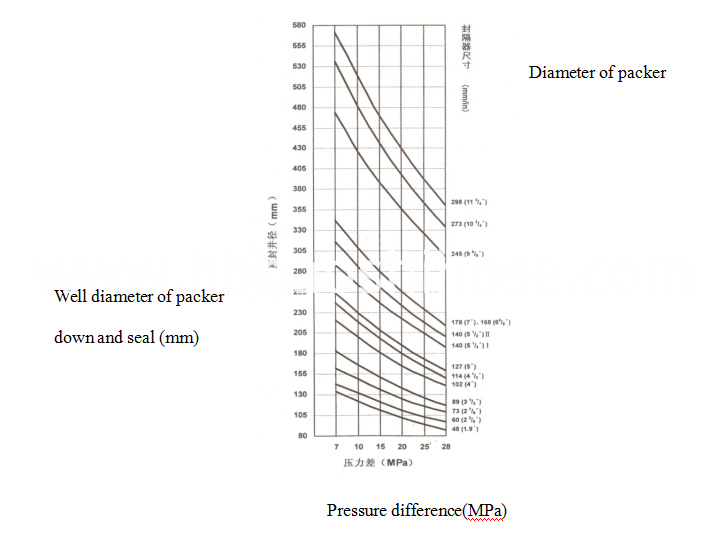 8). Pictures of Hydraulic Power Expansion Packer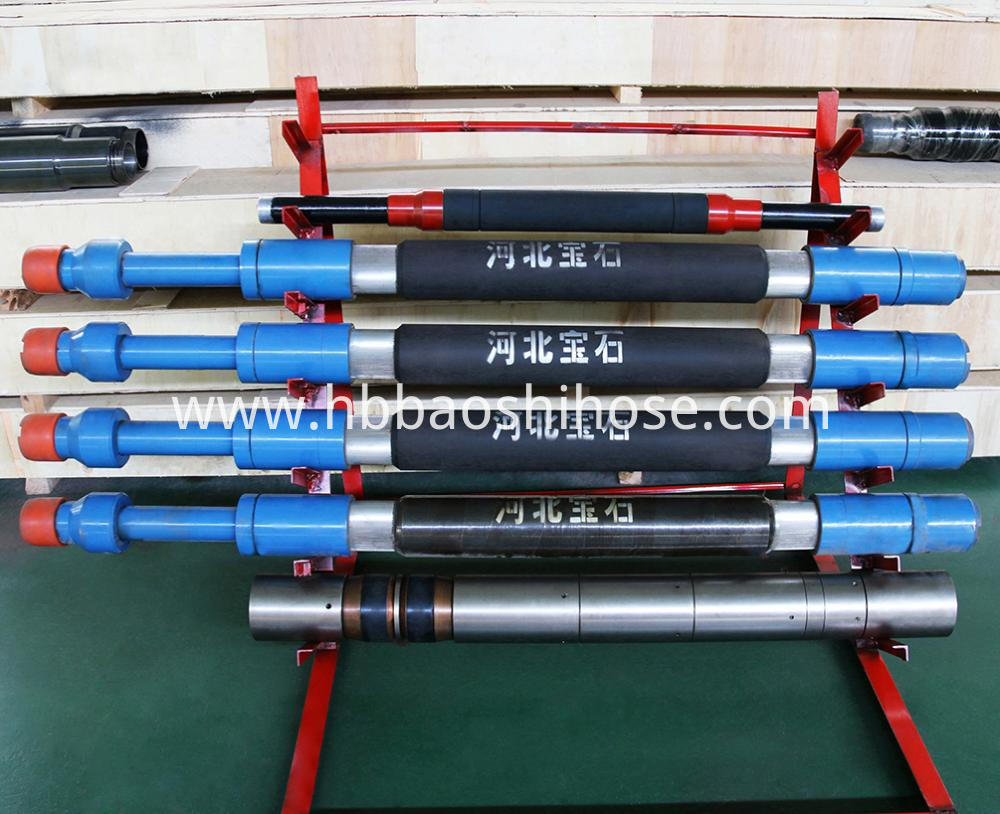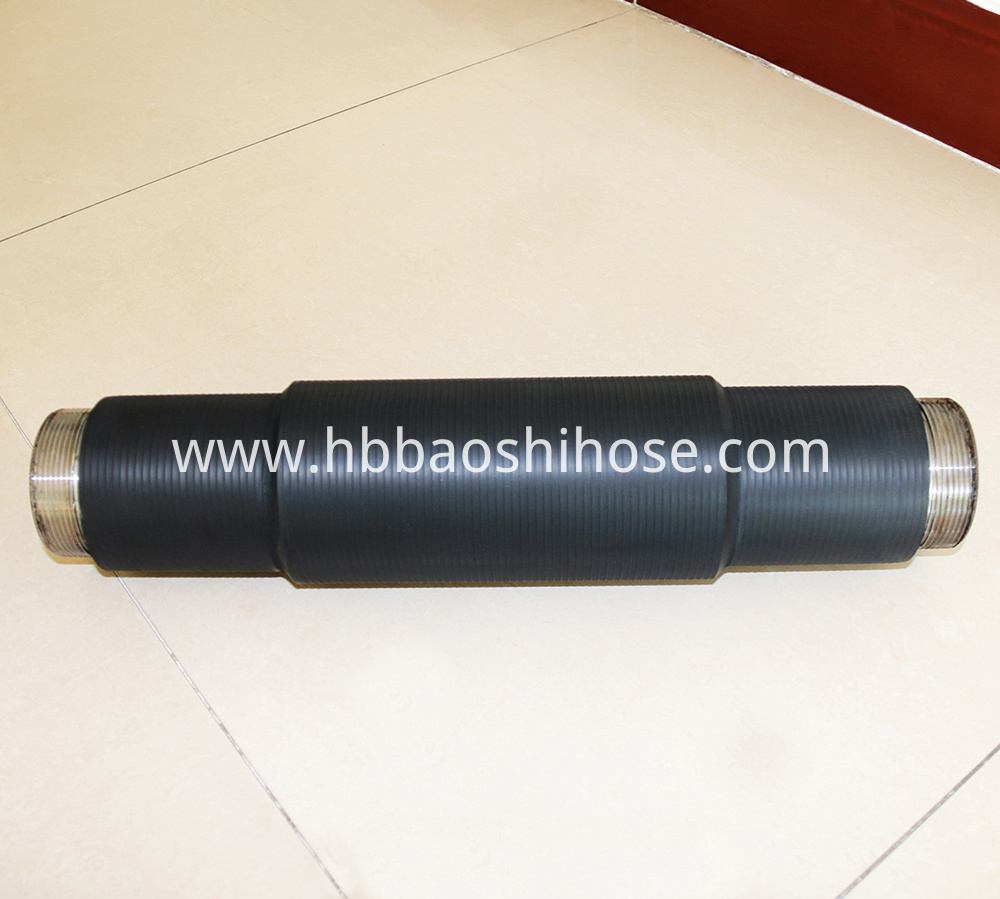 Looking for ideal
Hydraulic Power Expandable Packer
Manufacturer & supplier ? We have a wide selection at great prices to help you get creative. All the Meet-water/oil Self Expandable Packer are quality guaranteed. We are China Origin Factory of
Hydraulic Power Packer
. If you have any question, please feel free to contact us.